A stunning, internally flawless, vivid blue 17.61 carat diamond aptly titled "Bleu Royal" was sold at auction last week for over $44 million to an anonymous purchaser. The jewel, set between two colorless diamonds of significant size, sold at Christie's "Magnificent Jewels" event in Geneva on Nov. 7 for a whopping $44,009,645.
Christie's Geneva Luxury Week closed the books with $140M in sales overall and the Magnificent Jewels auction achieved over $77 million itself with bidders spanning across 37 countries.
"First of all, colored diamonds account for around 10% of all diamonds, out of which blue diamonds might account for 10%," Max Fawcett, head of jewels at Christie's told Fox News Digital. "So, the rarity is a given."
NEW YORK AUCTIONEER SHARED 3 TOP TIPS FOR GAINING CONFIDENCE – AND KEEPING IT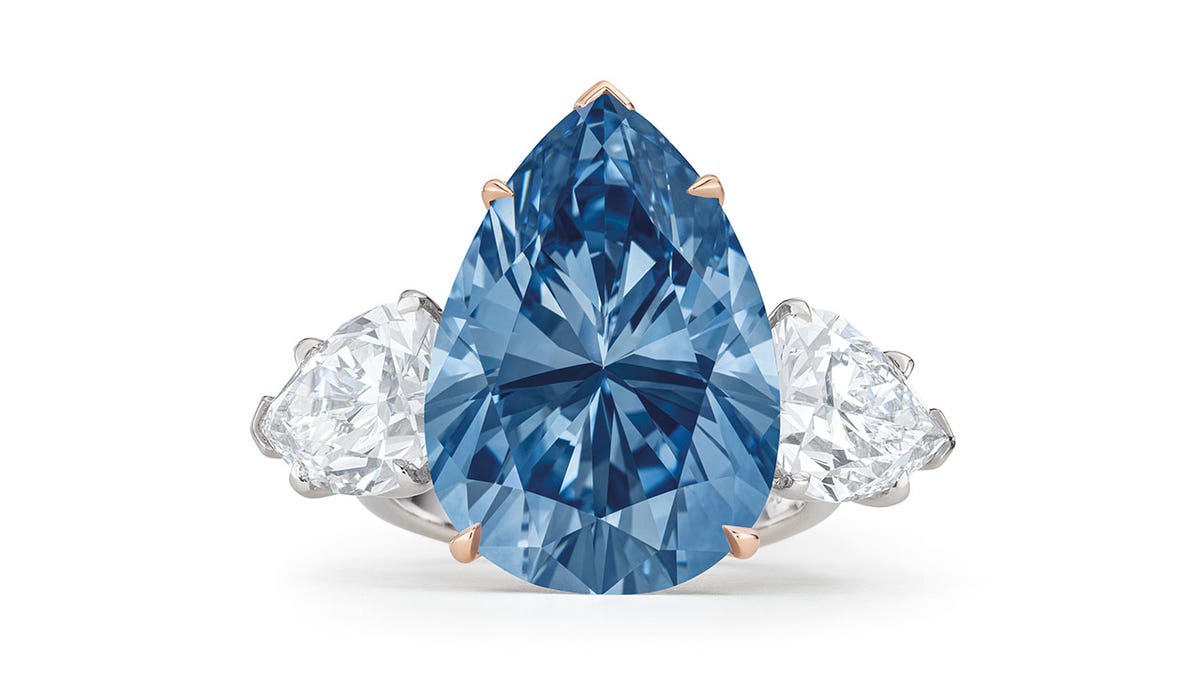 The bidding took a fleeting seven minutes and the ring was celebrated as the "most expensive jewel sold at auction in 2023" on Christie's website.
"The diamond was in a private collection for 40 years and came to the market this November," Fawcett said. "For the first time, the public was able to see and admire this extraordinary stone."
He added that the stone was unseen to buyers, "which enhanced its desirability to a global audience of jewels appreciators and collectors." The following day, the stone entered another private collection. Its collector and whereabouts remain secret.
Fawcett explained that "the diamond is internally flawless and of the best colour saturation." Additionally, he said the stone was only cut once and no modifications "were needed to enhance its colour and vibrance."
Other major sales from the same day included a rectangular modified brilliant-cut, fancy intense pink diamond of 8.77 carats selling for US$5,172,429 and a Burmese cushion-shaped ruby of 21.88 carats selling for US$2,611,280.
18-CARAT PINK DIAMOND COULD FETCH UP TO $35M AT AUCTION
Fawcett said the blue diamond, most notably, is "very rare" and "had all the right pedigree to become a star at auction." He added that, "In Christie's nearly 260 years' existence the Bleu Royal at 17.61 carat is the largest blue diamond ever offered at auction worldwide."
Christie's is a British auction house with a presence in 46 countries across the world. The auction house anchors regular live and online-only auctions and private sales of high-quality, privately-held collections of art, jewelry and more.
Christie's has been the auction house for many private and well-known jewelry collections for present and preceding decades. In 2006, Academy Award-winning British-American actress Elizabeth Taylor announced all future sales of her clothing, jewelry, artwork and more would be through Christie's.
"Christie's is a most honorable firm," Taylor said in a statement in September 2006. "I have enjoyed their integrity and commitment to excellence for many years."
In 2011, the same year Taylor died, Christie's held a live auction of her most prized items and amassed a whopping $115,932,000 which broke the record for a single-owner jewelry collection. The sale included a diamond and emerald ring that was the first gift to the actress from two-time husband, and ex-husband, Richard Burton.
HEIRESS' $150 MILLION JEWELRY AUCTION SPARKS CONTROVERSY OVER LATE HUSBAND'S PROFITS DURING NAZI OPPRESSION
Earlier this year, Christie's held a controversial auction for Heidi Horten, an Austrian heiress whose jewelry collection, during presale, was estimated to be worth $150 million. The American Jewish Committee called for the auction, with some 700 pieces, to be delayed until a "serious effort is made to determine what portion of this wealth came from Nazi victims."
Horten's late German husband, Helmut Horten, began to acquire his fortune from Jews fleeing Nazi oppression. Christie's openly noted to Reuters in May that he gained wealth in part by purchasing "Jewish businesses that were sold under duress."
The auction house went ahead with the two-part live event and grossed a record $202 million.
A "significant contribution" was made from the auction's sales to Jewish organizations to advance Holocaust education and research and other programs. Neither an amount nor a percentage to be contributed were disclosed, but Christie's site reads, "It will be up to these organizations, if they so wish, to communicate about these donations."
Further sales of Horten's collections have been canceled by Christie's, including the fall sale in Geneva that was intended for this month.