U.S. forces conducted a self-defense airstrike Wednesday on a Syrian weapons storage facility in response to a series of recent attacks targeting American personnel in Iraq and Syria.
The strike was conducted by two F-15 fighter jets targeting the Maysulun weapons storage facility in eastern Syria, the Department of Defense said.
"The President has no higher priority than the safety of U.S. personnel, and he directed today's action to make clear that the United States will defend itself, its personnel, and its interests," Secretary of Defense Lloyd Austin said Wednesday. 
US-LED FORCES BEGIN LIVE-FIRE EXERCISES IN IRAQ, SYRIA AFTER 14 ATTACKS ON AMERICAN BASES LEFT 24 INJURED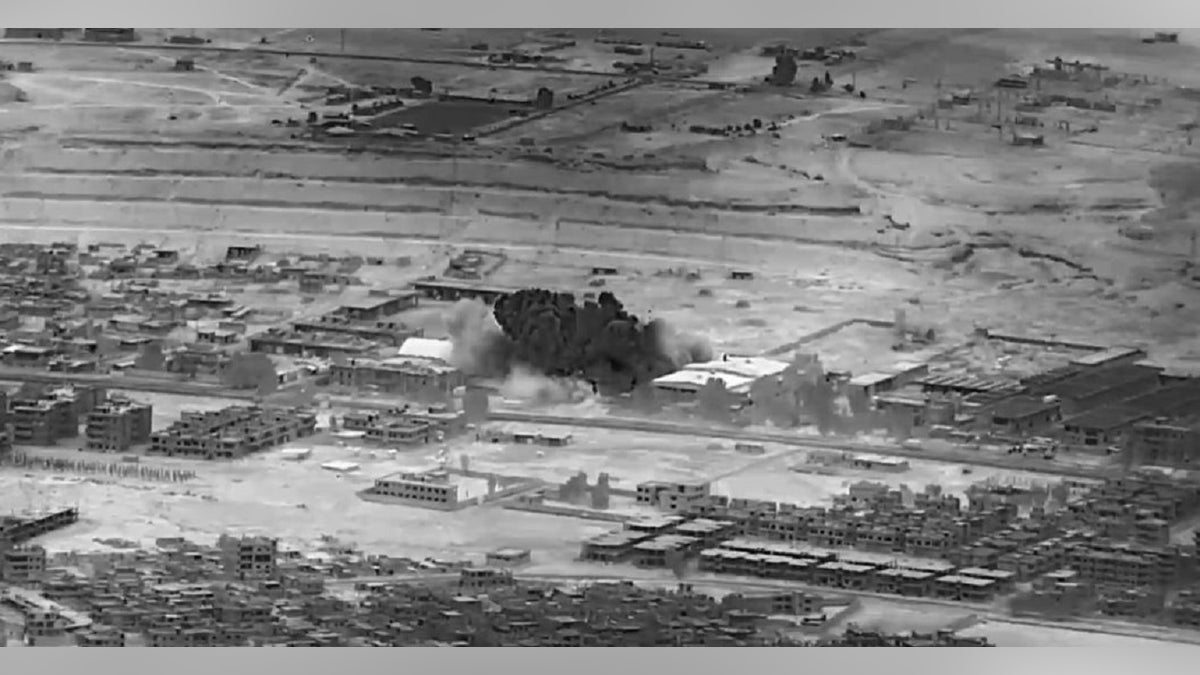 Video footage of the military operation shows initial strikes from the two warplanes followed by secondary explosions.
U.S. and coalition forces in Iraq and Syria have been attacked at least 46 times since Oct. 17, many from drone strikes. Of these attacks, 24 occurred in Iraq and 22 took place in Syria. They included a mix of one-way attack drones and rockets.
Most of the attacks were successfully disrupted by military forces and most failed to reach their targets, thanks to robust defenses. However, one attack resulted in the death of an American contractor, while through Nov. 9, there have been 56 total injuries to U.S. troops, according to Pentagon Deputy Press Secretary Sabrina Singh. 
Singh added that 25 of the injuries were traumatic brain injuries, or TBI, and all service members have returned to duty.
Many of the enemy rockets have targeted U.S. and coalition forces at air bases in Iraq and other sites, such as the Mission Support Site Euphrates and Mission Support Site Green Village in Syria. 
The attacks have stemmed from the ongoing violence between Israel and Hamas in Gaza. The U.S. has backed Israel. 
CLICK HERE TO GET THE FOX NEWS APP
The agency said the U.S. "is fully prepared to take further necessary measures to protect our people and our facilities." Last month, Austin called out Iran by name, blaming its leaders for the attacks. 
"The United States does not seek conflict and has no intention nor desire to engage in further hostilities, but these Iranian-backed attacks against U.S. forces are unacceptable and must stop," he said. "Iran wants to hide its hand and deny its role in these attacks against our forces. We will not let them. If attacks by Iran's proxies against U.S. forces continue, we will not hesitate to take further necessary measures to protect our people."