Treasury Secretary Janet Yellen and her Chinese counterpart will meet in San Francisco on Thursday to start two days of talks aimed at making progress on a slew of economic issues when competition has markedly intensified between their countries.
Yellen's talks with Vice Premier He Lifeng are designed to help lay the groundwork for an expected meeting between President Joe Biden and Chinese President Xi Jinping next week on the sidelines of the Asia-Pacific Economic Cooperation summit in San Francisco, which would be their first engagement in nearly a year.
The White House is not expecting the face-to-face meeting to result in major changes to the relationship between the two nations, according to a person familiar with the planning, although it hopes to see some signs of progress.
US SENATORS HOPEFUL FOR PRELIMINARY TALKS WITH CHINA ON FENTANYL CRISIS DURING BEIJING VISIT
Analysts say expectations should be kept low, given the competitive nature of the countries' relationship.
Nicholas Szechenyi, deputy director for Asia at the Center for Strategic and International Studies, said at a preview event for the APEC summit that "it seems difficult for the United States to credibly emphasize themes such as inclusiveness, interconnectedness — the themes of this year's APEC summit — when the primary driver for U.S. economic strategy in the Indo-Pacific is not economic cooperation, necessarily, but rather economic competition."
"U.S. strategy is very much focused on economic competition with China," he said.
Ahead of the meeting, China's state media laid out Beijing's major concerns: the Biden administration's China policy, supply chain curtailments, restrictions on high-tech products such as advanced chips, and tariffs on Chinese products.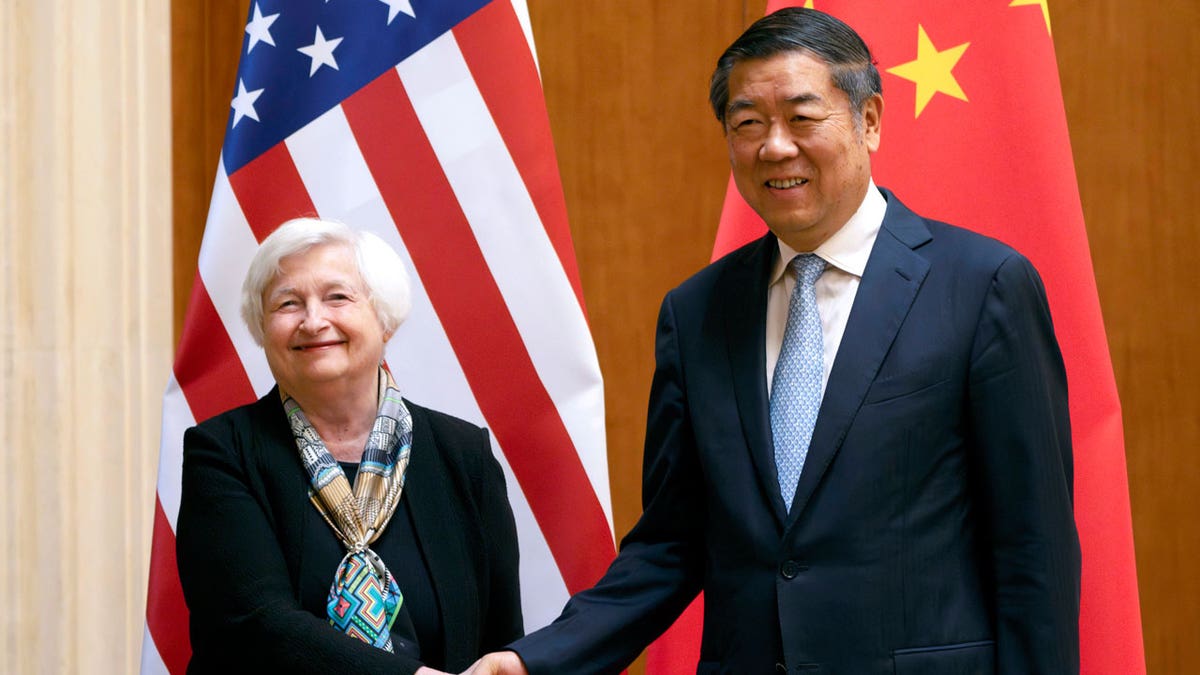 "The US is restricting Chinese companies all around, including their abilities to raise funds and operate in the US," the state broadcaster China Central Television said on one of its social media accounts. "More than 1,300 Chinese companies are being sanctioned by the US. If the U.S. wants to cooperate with China, it needs to 'slim down' this list."
"The US must take concrete steps. Only with that, China and the US can join hands to cope with challenges together," it said. "Only with this, China and the US can stabilize market expectations, create good conditions for investment activities and send positive signals to the outside."
In August, Biden signed an executive order designed to regulate and block high-tech U.S.-based investments going toward China, a move his Democratic administration said is based on protecting national security. And last year, the U.S. moved to block exports of advanced computer chips to China.
Earlier this year, U.S. lawmakers held hearings over data security and harmful content with TikTok CEO Shou Zi Chew, contemplating whether to ban the hugely popular app because of its Chinese connections.
And tensions between the countries heightened earlier this year when a Chinese surveillance balloon was spotted traveling over sensitive U.S. airspace. The U.S. military shot down the balloon off the Carolina coast after it traversed sensitive military sites across North America. China insisted the flyover was an accident involving a civilian aircraft and threatened repercussions.
With all of the tensions, the two nations have worked to smooth economic ties.
Biden spoke with Chinese Foreign Minister Wang Yi at the White House for about an hour late last month, when Beijing's top diplomat traveled to Washington for talks with Secretary of State Antony Blinken and White House national security adviser Jake Sullivan.
CONGRESS WEIGHS BAN ON GOVERNMENT CONTRACTS FOR 'ADVERSARIAL BIOTECH COMPANIES' LIKE CHINA'S BGI
Xi similarly met with Blinken in June when the secretary of state traveled to Beijing for talks with Wang.
Yellen has met with a host of Chinese officials throughout this year. In January, she had her first face-to-face meeting with former Vice Premier Liu He in Zurich. She traveled to China in July to discuss economic policies between the nations and urged Chinese government officials to cooperate on climate change and other global challenges and not let sharp disagreements about trade and other irritants derail relations.
"I do not see the relationship between the U.S. and China through the frame of great power conflict," she said at a July 8 news conference. "We believe that the world is big enough for both of our countries to thrive."
In September, the Treasury Department and China's Ministry of Finance launched a pair of economic working groups in an effort to ease tensions and deepen ties between the nations.