The 2023 World Series continues on Tuesday night, as the Texas Rangers and Arizona Diamondbacks meet for a pivotal Game 4. 
The first game of the series turned out be an instant fall classic, with the Rangers winning 6-5 in dramatic fashion in extra innings. The D-backs bounced back in Game 2, dominating Texas en route to a 9-1 victory. 
Four-time All-Star and 2020 World Series MVP Corey Seager crushed a two-run homer in third inning of Game 3, which proved to be all the Rangers need for a 3-1 victory. Texas also benefited from a strong pitching performance from its bullpen.
The Rangers enter Game 4 with 2-1 lead, but Arizona is looking to pick up their first home win of the series.
CLICK HERE FOR MORE SPORTS COVERAGE ON FOXNEWS.COM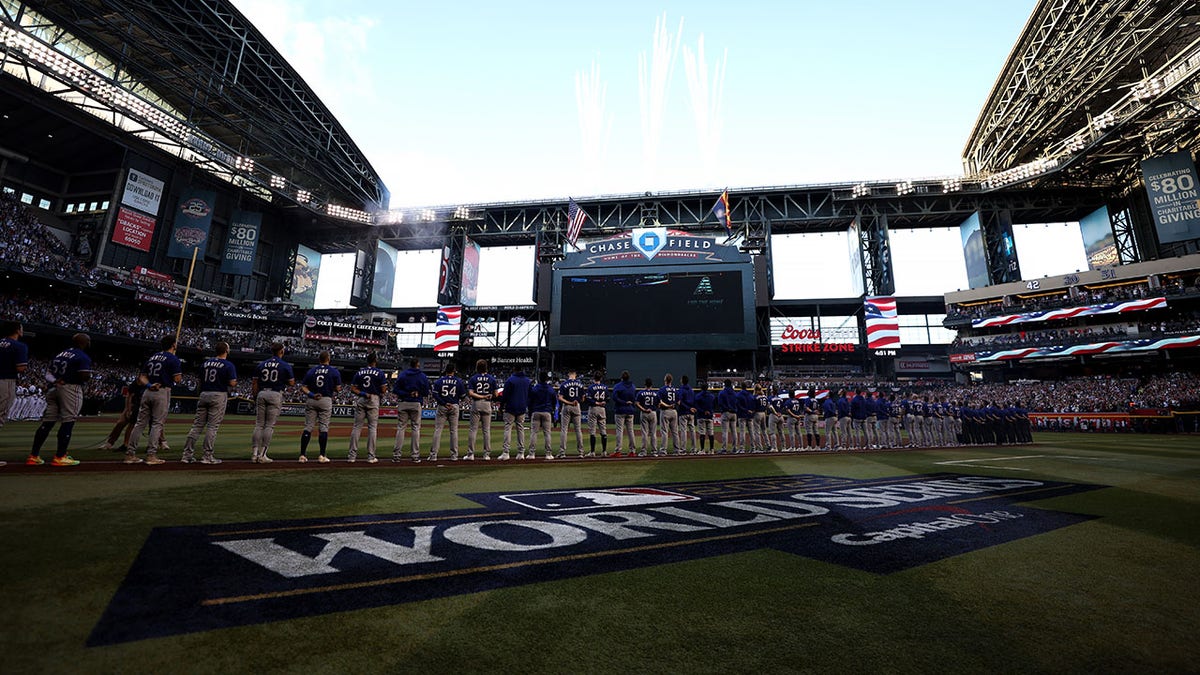 In recent history, a 2-1 lead has not necessarily meant the team holding the advantage will win the series. Last year, the Houston Astros trailed the Philadelphia Phillies 2-1 entering Game 4, but went on to win the title. The Atlanta Braves, meanwhile, held a 2-1 lead over the Astros in 2021 and did go on to win the World Series.
However, trailing 3-1 in a best-of-seven series has proven to be much more difficult to overcome. Teams who fall behind 3-1 have been eliminated 85% of the time. 
LEGENDS OF THE DIAMOND WHO WILL NEVER BE FORGOTTEN IN BASEBALL HISTORY
The Rangers have had to overcome injuries to starting pitcher Max Scherzer and outfielder Adolis García to go 9-0 on the road thus far this postseason. Scherzer exited Game 3 with back spasms, while García was slowed with side tightness.
PITCHING MATCHUPS
Andrew Heaney is the Rangers' projected starter for Game 4 at Chase Field. The left-hander finished the 2023 regular season with a 10-6 record and a 4.15 ERA. He has started two games this postseason, and appeared twice as a reliever.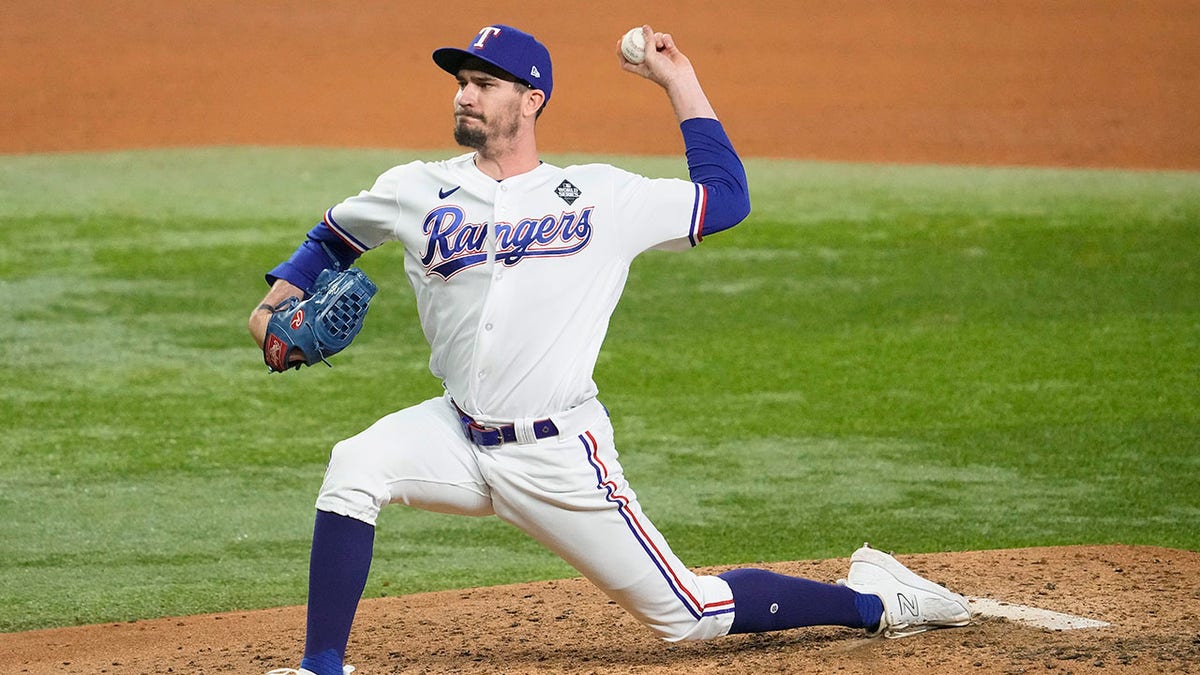 Heaney has allowed four runs over his innings this postseason. The Rangers are probably not expecting him to pitch deep into Game 4, and Dane Dunning will be the first pitcher to enter in relief. 
Meanwhile, Joe Mantiply will take the mound for Arizona, but the D-backs are viewing Tuesday's matchup as a bullpen game. 
It is unclear how many batters the team is expecting Mantiply to face, but manager Torey Lovullo is likely hoping the lefty can set the tone.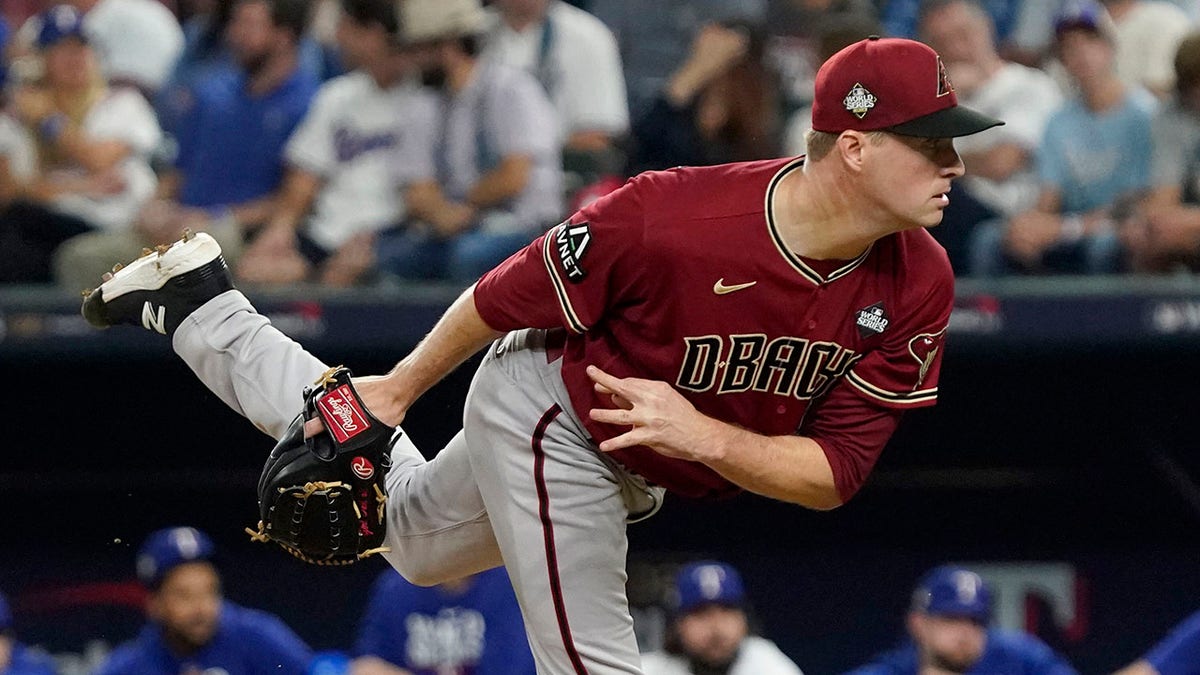 Seager will step to the plate at some point in the first inning. He has enjoyed a higher rate of success against right-handers than he has vs. left-handers. Seager's career OPS against right-handers is .905, while his numbers drop by more than 100 points against southpaws.
Once Mantiply exits the game, the Diamondbacks will lean on their bullpen to absorb the rest of the innings.
PROJECTED STARTING LINEUPS
Since Mantiply is left-handed, Rangers manager Bruce Bochy will likely move outfielder Robbie Grossman to the No. 3 spot in the lineup. The rest of Texas' batting order should be relatively normal.
Marcus Semien, 2B
Corey Seager, SS
Robbie Grossman, LF
Adolis García, RF
Mitch Garver, DH
Jonah Heim, C
Nathaniel Lowe, 1B
Josh Jung, 3B
Leody Taveras, CF
Arizona has kept the same lineup in the first three game of the series. Lovullo will likely adjust the top of the order by switching up outfielder Corbin Carroll and second baseman Ketel Marte since Heaney is a left-handed pitcher.
Ketel Marte, 2B
Corbin Carroll, RF
Gabriel Moreno, C
Christian Walker, 1B
Tommy Pham, DH
Lourdes Gurriel Jr., LF
Alek Thomas, CF
Evan Longoria, 3B
Geraldo Perdomo, SS
CLICK HERE TO GET THE FOX NEWS APP
HOW TO WATCH?
First pitch of Game 4 of the Fall Classic is set for 8:03 p.m. ET. The game is airing on FOX. In the U.S., fans can also go to MLB.TV and watch the game after authenticating with a participating Pay TV provider.