Four more boats have reportedly been found at the bottom of Mexico's Acapulco bay.
The Mexican navy's latest discoveries bring the total number of vessels sunken by Hurricane Otis to 33.
The Category 5 storm has also left some 47 people confirmed dead.
The Mexican navy said Tuesday that four more boats have been located on the bottom of Acapulco bay, bringing to 33 the number of vessels that apparently sank when Hurricane Otis slammed into the resort city last week.
The boats are believed to have been one of the key sources of hurricane deaths, because many crews are missing and apparently stayed aboard their craft when the Category 5 storm hit. So far, 47 people have been confirmed killed, including three foreign residents.
Navy Secretary José Rafael Ojeda said a ship with a crane has arrived. and that search teams hope to start lifting the boats to the surface soon to check for victims.
42 LOCALS, 3 FOREIGNERS REPORTED DEAD IN HURRICANE OTIS THUS FAR
"We have located 33 vessels, and we are going to start trying to lift them," Ojeda said.
However, with just one crane working, lifting the boats to the surface could take weeks, raising the prospect of a long, agonizing wait for relatives.
On Monday, a handful of relatives demonstrated on Acapulco's mud-clogged main boulevard to demand authorities speed up the search, holding up hand-lettered signs saying "I'm looking for my husband."
Abigail Andrade Rodríguez was one of four crew members aboard the rental boat Litos, a 94-foot, twin-motor yacht based in Puerto Marques, just south of Acapulco's main bay, on the night the hurricane hit.
"None of them has been found," said Susy Andrade, her aunt.
"She spoke with her family (Tuesday) and she said the sea was very choppy, and that they were going to leave Puerto Marques and head for the (Acapulco) marina to see if they would be safer there," Andrade said. "It appears they didn't arrive."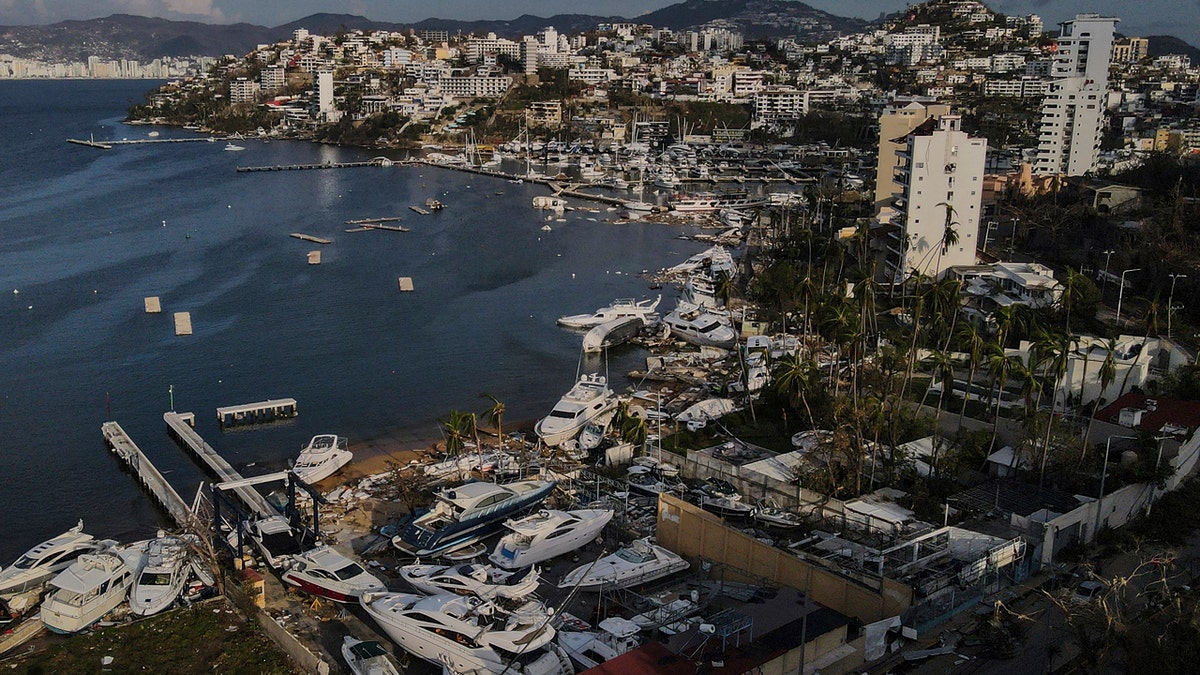 Around midnight, the yacht appears to have sent out an SOS after being blown or fleeing across the main bay. There was no official word that the Litos was among the 29 boats confirmed sunk.
"Things don't look good," Andrade said, "but we want to find her."
Acapulco is known for both its abundance of expensive yachts and its cheap tour boats that carry tourists around the bay.
In previous hurricanes in Acapulco, most of the dead were swept away by flooding on land. But with Otis, a significant number appear to have died at sea. Residents have said that some crews had either chosen or been ordered to stay aboard to guard their craft.
A local business chamber leader put the number of missing or dead at sea as high as 120, but there has been no official confirmation of that.
HURRICANE OTIS, STRONGEST STORM IN EASTERN PACIFIC'S HISTORY, TEARS THROUGH ACAPULCO
Roberto Arroyo, Guerrero state's civil defense secretary, said late Monday that the death toll stood at 47, with 54 people listed as missing.
President Andrés Manuel López Obrador said over the weekend that his opponents are trying to inflate the toll to damage him politically, but with hundreds of families still awaiting word from loved ones, it was likely to keep rising.
The federal civil defense agency tallied 220,000 homes that were damaged by the hurricane, which blew out the windows and walls of some high-rise hotels and ripped the tin roofs off thousands of homes.
CLICK HERE TO GET THE FOX NEWS APP
Officials from the national electric company promised to have power restored in all of Acapulco by late Tuesday, a week after the hurricane hit. But a company official suggested early Tuesday that goal probably wouldn't be met, in part because some downed power poles and towers were so remote or surrounded by squatter communities that they had to be replaced by helicopter.