The Detroit Lions bounced back from a brutal loss to dominate the Las Vegas Raiders in a 26-14 win to move to 6-2 on the season.
Jahmyr Gibbs' performance last week against the Baltimore Ravens was overlooked because it was a beatdown on the road. It was a different story tonight, as the rookie running back led the way for the Lions' offense.
Gibbs set new career highs with 152 rushing yards on 26 carries, while scoring his second career touchdown on the ground. He also had 37 yards receiving on five catches for a total of 189 yards from scrimmage. 
CLICK HERE FOR MORE SPORTS COVERAGE ON FOXNEWS.COM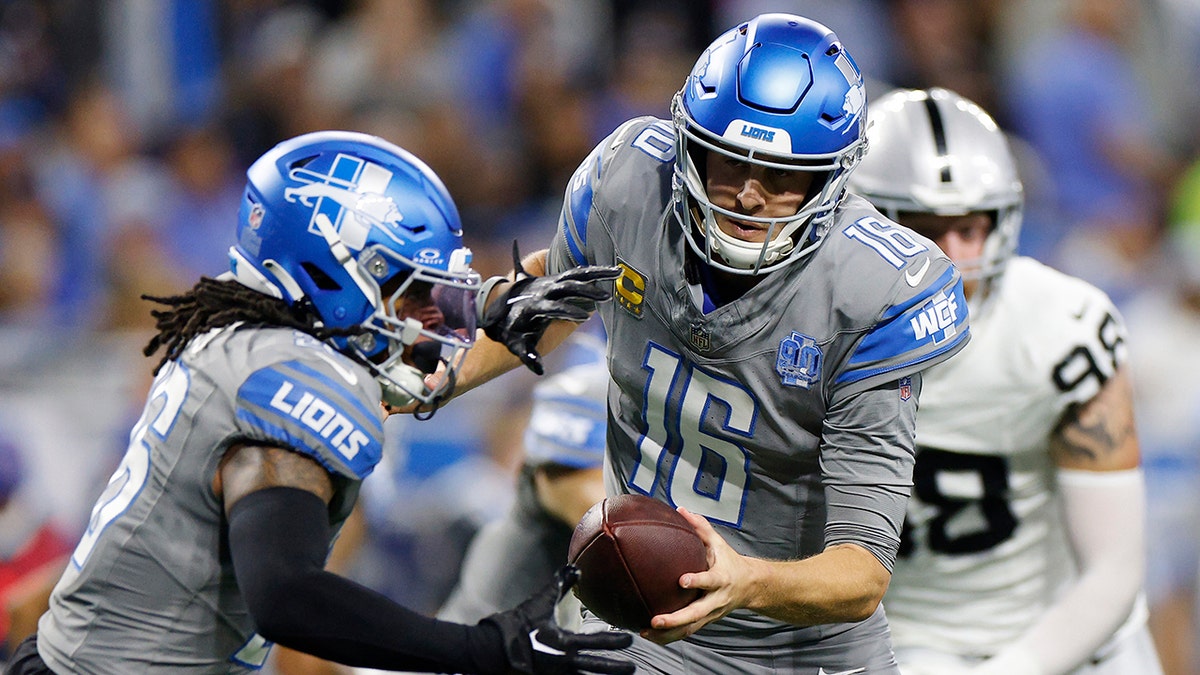 Amon-Ra St. Brown, who was dealing with an illness heading into this game, didn't look like it was affecting him too much. He had six catches for 108 yards, including a 44-yard catch-and-run to lead the way through the air.
With Jared Goff very efficient under center, the Lions had 486 total yards on offense as the Raiders had no answer on most drives for this group Monday night.
However, the Raiders' defense tried to keep this game close early on with some red zone stops leading to three Riley Patterson field goals as well as a fumble from wide receiver Josh Reynolds in the first half. 
LIONS RELEASE WIDE RECEIVER MARVIN JONES SHORTLY AFTER HE STEPPED AWAY FOR 'PERSONAL FAMILY MATTERS'
Jimmy Garoppolo and the Raiders' offense did not reciprocate the production in this one. They struggled all night long, and the Lions defensive pressure on Garoppolo was a big reason why.
Garoppolo was sacked six times and pressured even more, as head coach Josh McDaniels stood on the sideline baffled by what his group was putting out on the field. Even after the Reynolds fumble, Garoppolo's first pass of the Raiders' golden opportunity was an underthrown ball to Davante Adams that resulted in an interception. The Raiders would turn it over on downs on the next drive followed by a punt. 
Still, they were able to get the first touchdown of this game thanks to running back Josh Jacobs bulldozing his way down the field on a 10-play, 75-yard drive that ended with a three-yard rushing score to make it 9-7 in favor of Detroit.
But, after Goff couldn't find the end zone in their first three trips to the red zone, he finally cashed in with a strike to rookie tight end Sam LaPorta, who finished the game with eight catches for 57 yards on 10 targets.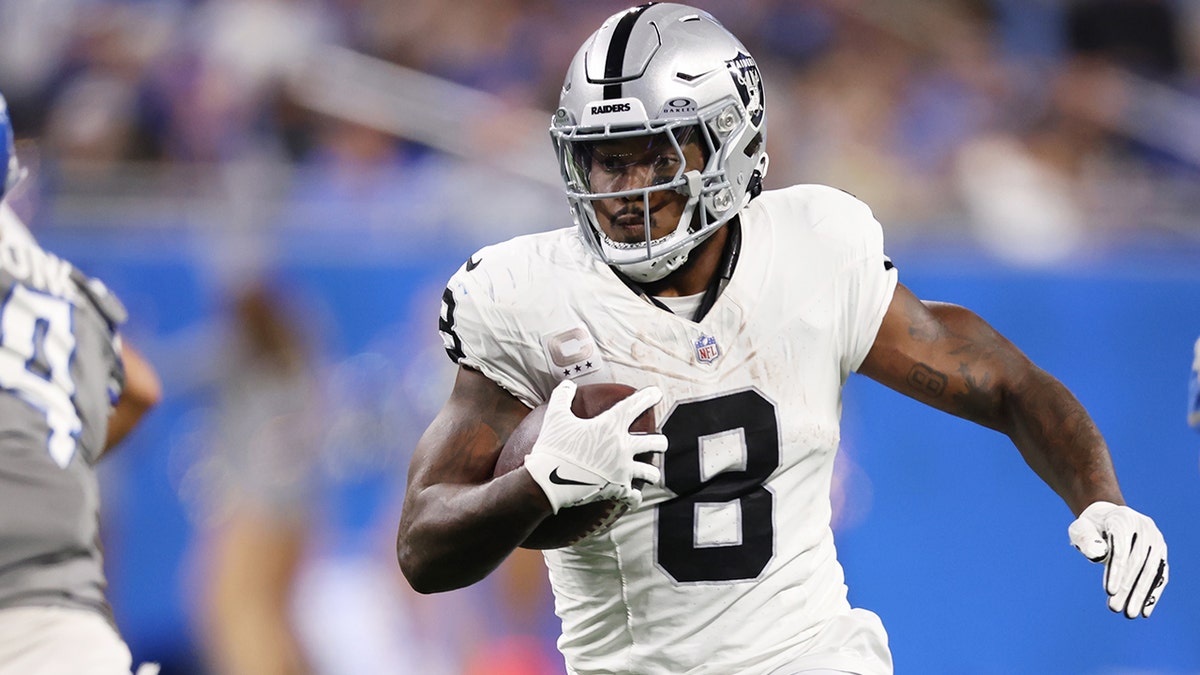 The Lions were clearly the better team, but even in the second half, there was a slight chance the Raiders could steal the game on the road, especially after Goff's biggest blunder. 
It looked like he was trying to throw the ball away on a broken play, but veteran cornerback Marcus Peters picked it off and ran it 75 yards to the house to give the Raiders a two-point deficit, 16-14, in the third quarter. 
A fumble was also forced on the next drive of the Lions by Craig Reynolds, breathing more life into the Raiders' sideline. But yet again, the offense failed to make it count.
Eventually, the Lions tightened things up, which included Gibbs' 27-yard touchdown run where he leaped into the Ford Field stands to celebrate with Lions fans after giving them a 23-14 lead.
LIONS' AMON-RA ST BROWN DRESSES LIKE NOTRE DAME LEPRECHAUN AFTER 'AGREEMENT'
Looking more at the Lions' box score, Craig Reynolds had 74 yards on 14 rushes, adding to Gibbs' 152 for a total 222 yards on the ground for Detroit.
Linebacker Alex Anzalone was all over the place for the Lions in this one, accounting for two of the six sacks on Garoppolo, which came during a single drive. He led the team with seven total tackles. 
As for the Raiders, the NFL trade deadline is on Tuesday at 4 p.m. ET and Adams might be asking to be dealt on the plane ride home after another frustrating night.
He was overthrown on two occasions by Garoppolo where he might have a touchdown after beating his defender. He finished with just one catch on seven targets for 11 yards – the lowest of any Raiders receiver in this game.
Jacobs enjoyed some production with 61 rushing yards and 27 receiving yards, both of which led Las Vegas, but Garoppolo was a putrid 10 of 21 for 126 yards with no touchdowns and one interception.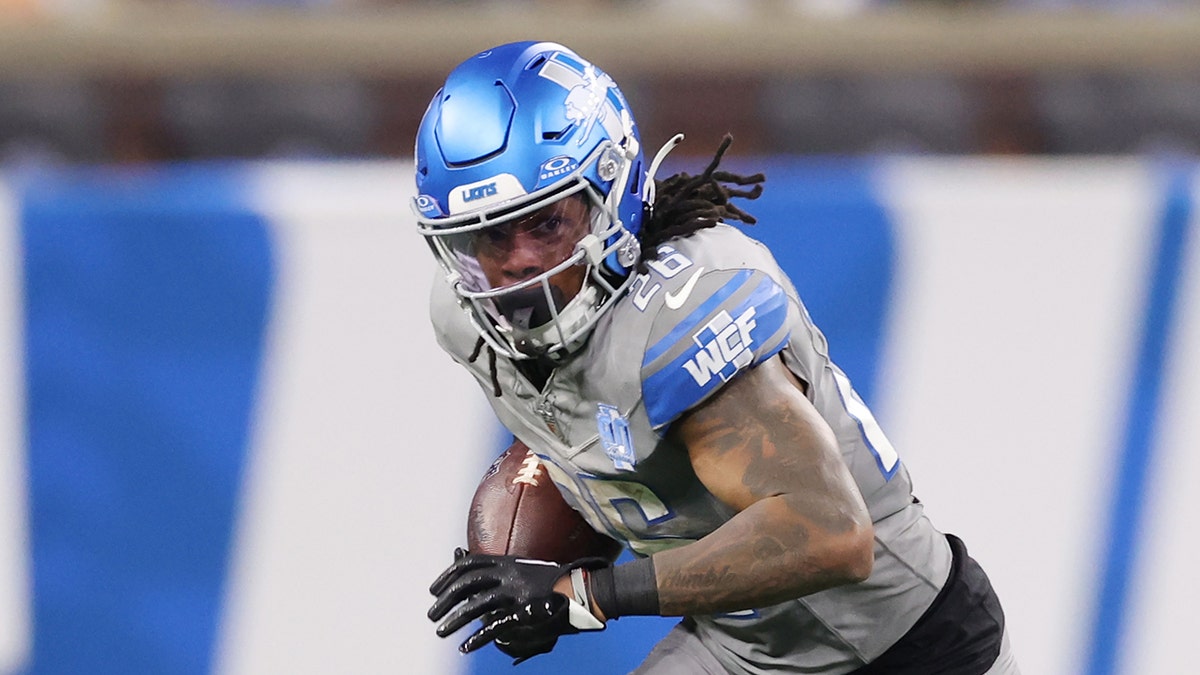 CLICK HERE TO GET THE FOX NEWS APP
Losers of two straight now, the Raiders head back home to face another lowly team in the New York Giants next Sunday, while the Lions head into their bye week.