Three children dressed in banana costumes during the World Series Game 2 in Texas Saturday night had more on their mind than Halloween.
A teen from San Antonio known as "banana boy" is a Texas Rangers fan who recruited two friends in an attempt to distract Arizona Diamondbacks pitcher Merrill Kelly.
Their dancing shenanigans were seen on camera as they were behind home plate in a box at Globe Life Field. 
"Much like the Astros game – which the Rangers lost – the FOX cameras couldn't avoid the fans going bananas. Literally," Sports Illustrated wrote on its website.
DIAMONDBACKS' KETEL MARTE MAKES MLB HISTORY AS ARIZONA TAKES GAME 2 TO EVEN WORLD SERIES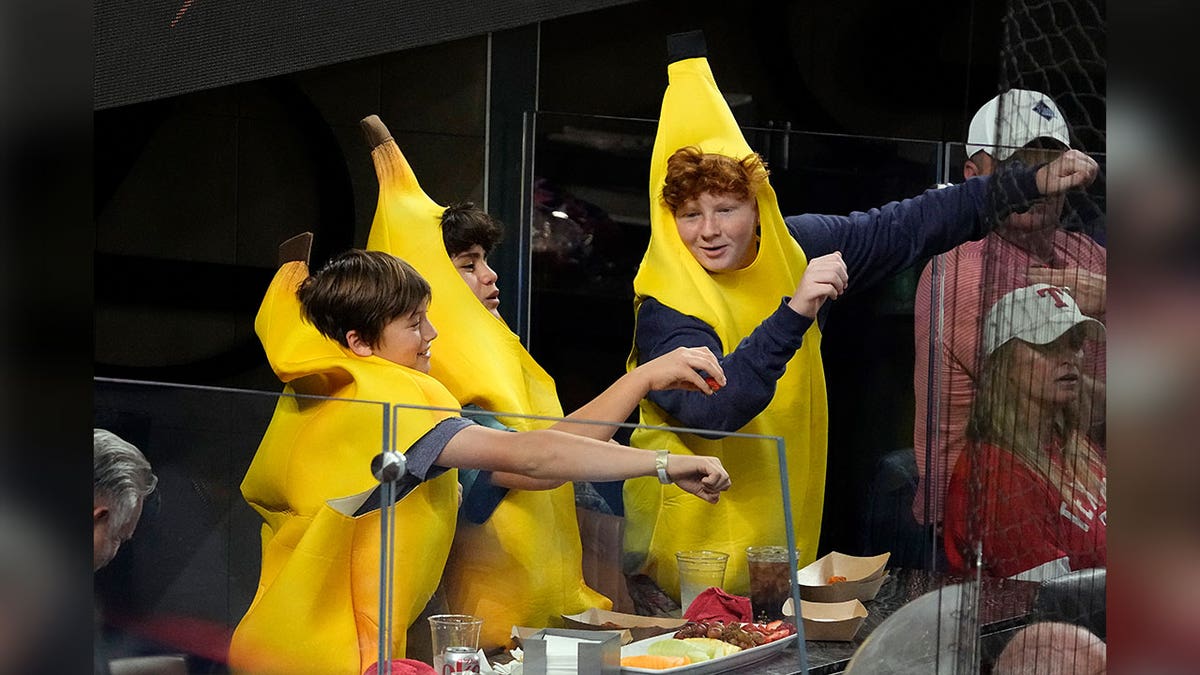 They caught the attention of fans, but apparently not that of the opposing team, as Arizona went to win the game 9-1. 
Not everyone found the tactic appealing. 
"Can someone please get those banana costumes off those boys behind home plate?! Can't even enjoy the World Series. Such a distraction!" one social  media user posted on X, formerly Twitter.
MLB WILL DISCUSS PLAYOFF FORMAT; NO WHOLESALE CHANGES SET FOR NEAR FUTURE, COMMISH SAYS
Others welcomed their attempts to help their home team.
"World Series tickets behind home plate: $6,000. Buying them so your kids can dance in banana costumes on national TV: Priceless #TexasRangers #Mastercard #WorldSeries2023," another X user posted.
CLICK HERE FOR MORE SPORTS COVERAGE ON FOXNEWS.COM
"Banana boy," according to local Texas media outlets pulled the same stunt during Games 4 and 5 of the American League Championship Series when the Rangers played the Houston Astros.
The 13-year-old fan told Spectrum News he is a very superstitious fan.
"I'm going to wear the same outfit and not wash the clothes," he said. "I'm going to put it on my bed and wear the same outfit." 
CLICK HERE TO GET THE FOX NEWS APP
It is unknown if he and the others from the bunch will make any appearances in any of the five possible remaining games. 
The World Series is tied 1-1. Game 3 will be played Monday at Chase Field in Phoenix. First pitch is set for 5:03 MST.