Israel's ambassador to the United Nations is ripping the "horrible views" that U.N. Secretary-General António Guterres expressed at a meeting of the Security Council on Tuesday and is calling for his resignation.   
Ambassador Gilad Erdan described Guterres' remarks as "shocking" for stating that the Oct. 7 terror attacks on Israel by Hamas "did not happen in a vacuum" and that the "Palestinian people have been subjected to 56 years of suffocating occupation."
"The shocking speech by the @UN Secretary-General at the Security Council meeting, while rockets are being fired at all of Israel, proved conclusively, beyond any doubt, that the Secretary-General is completely disconnected from the reality in our region and that he views the massacre committed by Nazi Hamas terrorists in a distorted and immoral manner," Erdan posted on X, formerly Twitter.
"His statement that, 'the attacks by Hamas did not happen in a vacuum,' expressed an understanding for terrorism and murder. It's really unfathomabale (sic). It's truly sad that the head of an organization that arose after the Holocaust holds such horrible views. A tragedy!" 
LIVE UPDATES: ISRAEL AT WAR WITH HAMAS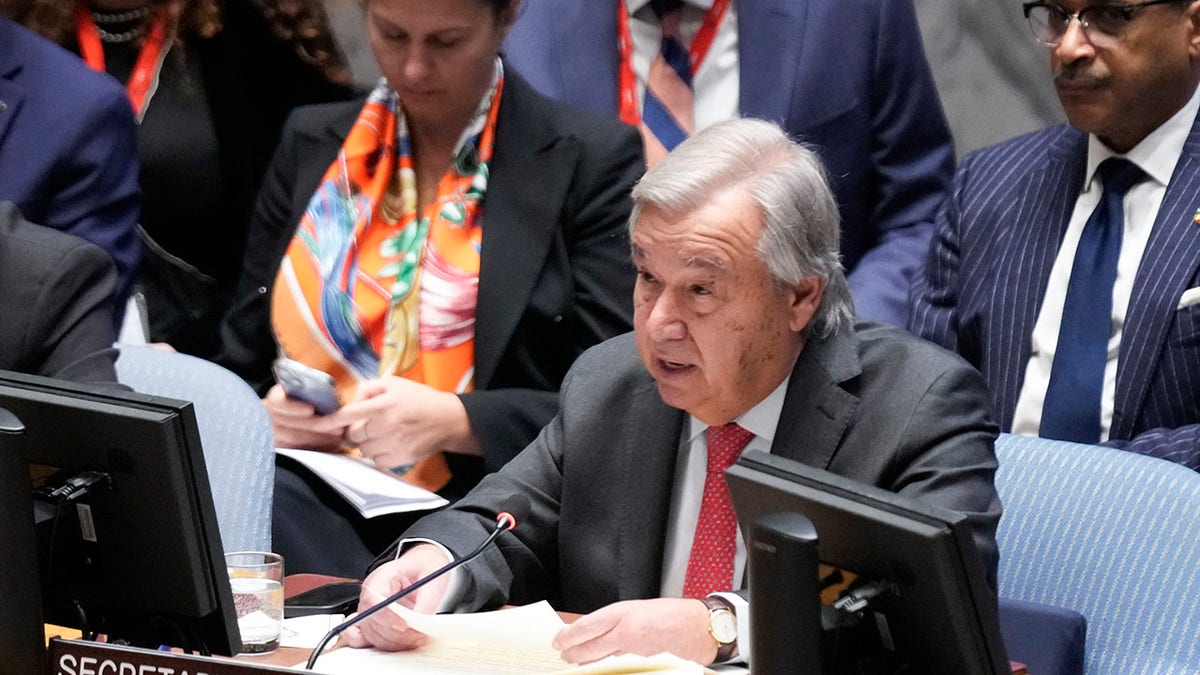 Erdan then demanded that Guterres resign, the first time an Israeli ambassador has called for a sitting U.N. secretary-general to step down, an Israeli official confirmed to Fox News Digital.
"The @UN Secretary-General, who shows understanding for the campaign of mass murder of children, women, and the elderly, is not fit to lead the UN," he wrote in a follow-up post. "I call on him to resign immediately. There is no justification or point in talking to those who show compassion for the most terrible atrocities committed against the citizens of Israel and the Jewish people. There are simply no words."
During his speech, Guterres said the "situation in the Middle East is growing more dire by the hour" and that the "war in Gaza is raging and risks spiraling throughout the region," according to a transcript.
HAMAS LAUNCHES MASSIVE ROCKET BARRAGE AS ISRAEL DELAYS INVASION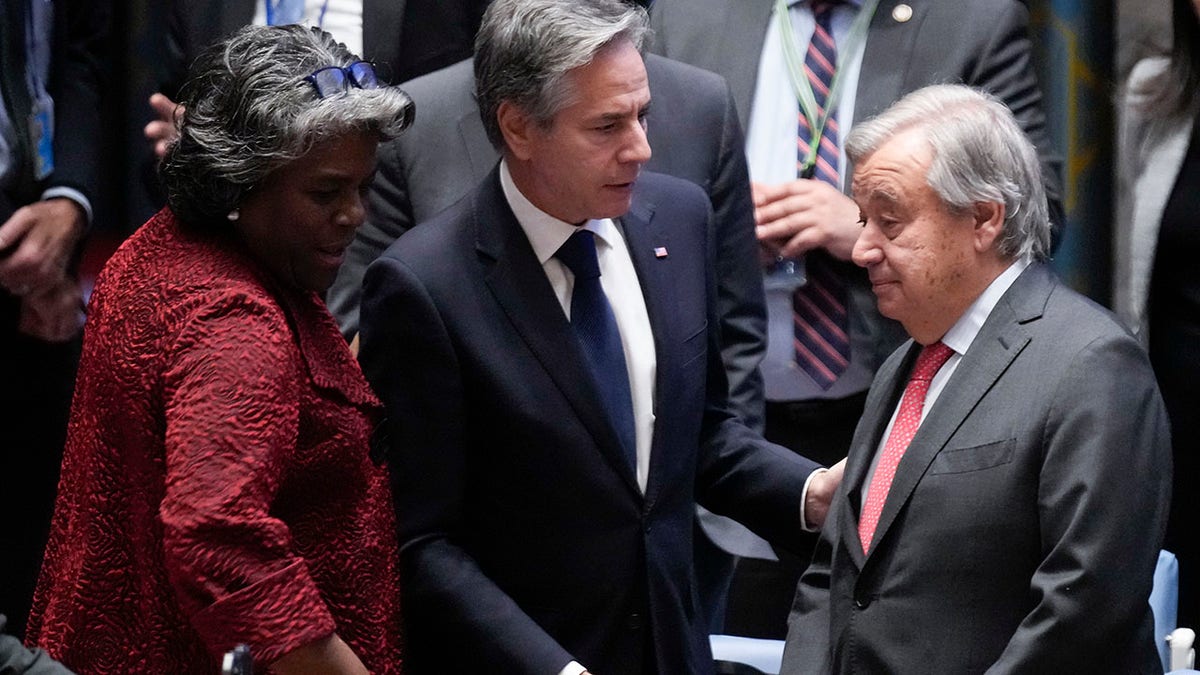 "I have condemned unequivocally the horrifying and unprecedented 7 October acts of terror by Hamas in Israel," Guterres continued. "Nothing can justify the deliberate killing, injuring and kidnapping of civilians – or the launching of rockets against civilian targets."
Yet Guterres also said, "It is important to also recognize the attacks by Hamas did not happen in a vacuum."
"The Palestinian people have been subjected to 56 years of suffocating occupation. They have seen their land steadily devoured by settlements and plagued by violence; their economy stifled; their people displaced and their homes demolished. Their hopes for a political solution to their plight have been vanishing," the secretary-general said.
"But the grievances of the Palestinian people cannot justify the appalling attacks by Hamas. And those appalling attacks cannot justify the collective punishment of the Palestinian people," he added.
Responding to Guterres at the U.N., Israeli Foreign Minister Eli Cohen said, "As we meet here today, young babies, children are held in Gaza. This is beyond imagination. A living nightmare."
"They are victims of evil," he added. "Mr. Secretary-General, in what world do you live? Definitely, this is not our world."
Then U.S. Secretary of State Antony Blinken said, "Where is the outrage? Where is the revulsion? Where is the rejection? Where is the explicit condemnation of these horrors? We must affirm the right of any nation to defend itself and to prevent such horror from repeating itself."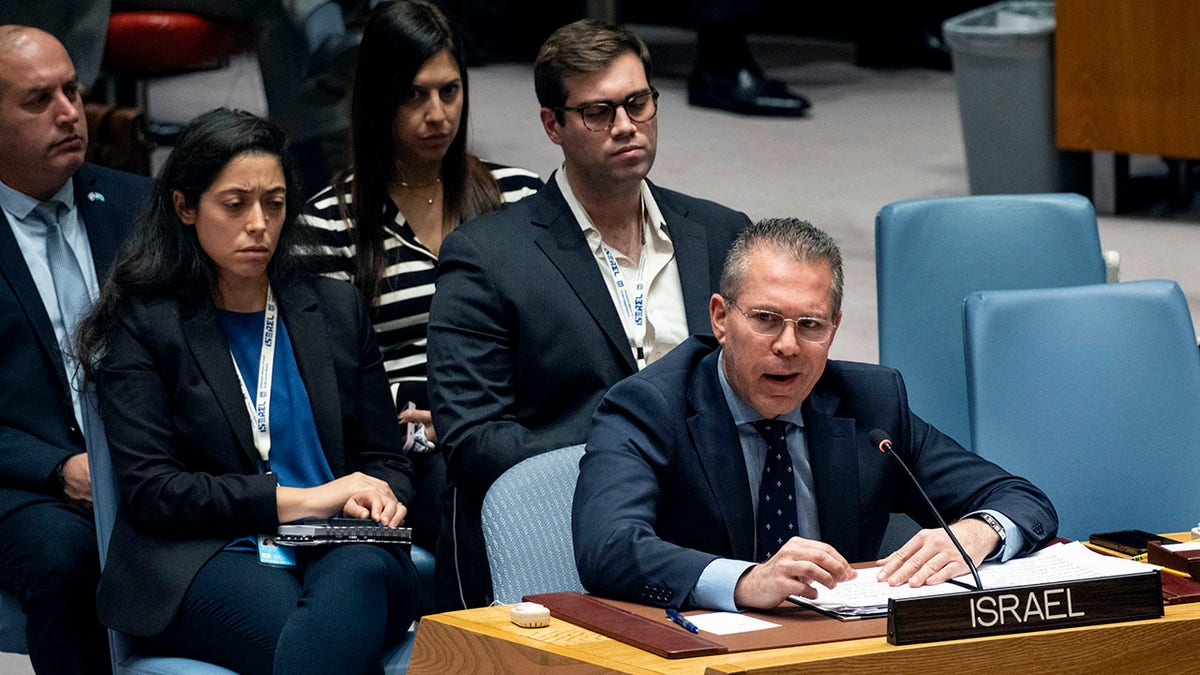 "We call on all member states to send a firm, united message to any state or non-state actor that is considering opening another front in this conflict against Israel or who may target Israel's partners, including the United States," Blinken also said. "Don't, don't throw fuel on the fire. Members of this council and permanent members in particular have a special responsibility to prevent this conflict from spreading."
Erdan later said at a press conference that "The U.N. is failing" and "you, Mr. Secretary-General, have lost all morality and impartiality because when you say those terrible words that these heinous attacks did not happen in a vacuum, you are tolerating terrorism. And by tolerating terrorism, you are justifying terrorism."
CLICK HERE TO GET THE FOX NEWS APP 
"I think that the secretary-general must resign because, from now on, every day that he's here in this building, unless he apologizes immediately – today we called [on] him to apologize. There is no justification to the existence of this building," Erdan continued. "This building was established to prevent atrocities. How can the secretary-general, with his words, justify in any way the terrible atrocities that happened to our civilians, innocent civilians?"
Fox News' Ben Evansky contributed to this report.