The New England Patriots shocked the NFL world with a game-winning touchdown drive to defeat the Buffalo Bills, 29-25, at Gillette Stadium on Sunday afternoon. 
After blowing their lead late in the fourth quarter with Bills quarterback Josh Allen rushing it in from one yard out, Mac Jones and the Patriots' offense took the field down three with less than two minutes to play.
The Patriots got exactly what they needed from running back Rhamondre Stevenson on the first play of the drive, as he burst through a hole and picked up 34 yards to immediately get into Bills' territory. 
CLICK HERE FOR MORE SPORTS COVERAGE ON FOXNEWS.COM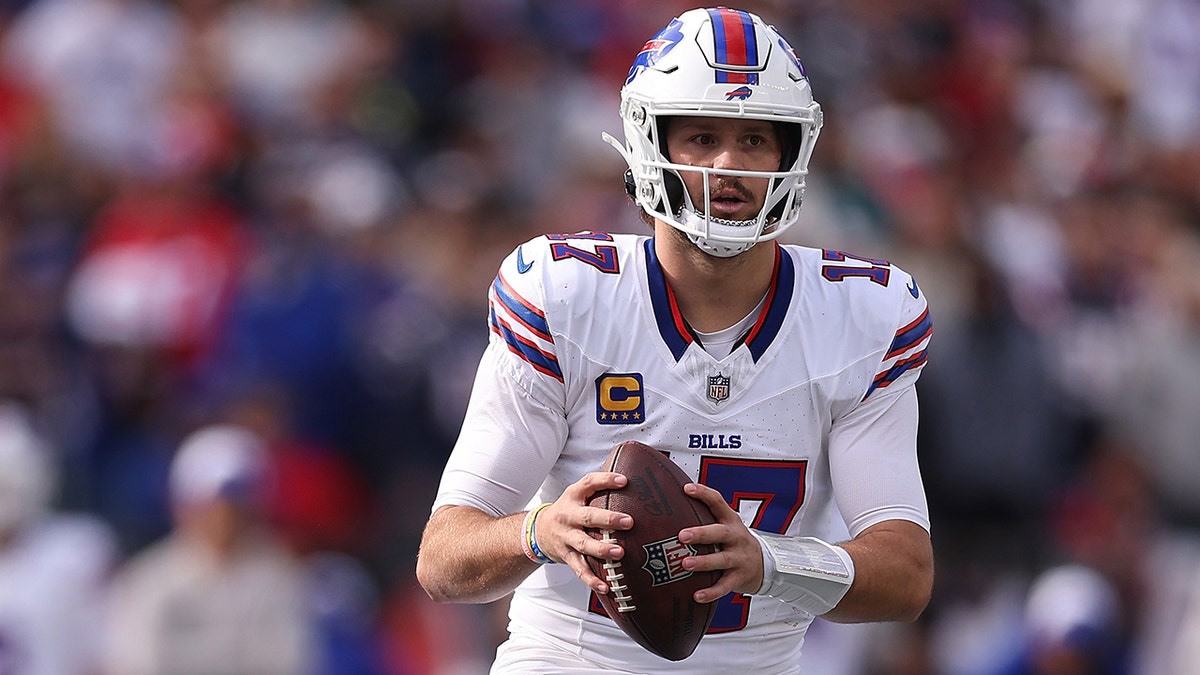 Stevenson would pick up five more yards before receiving a pass from Jones and getting tackled behind the line of scrimmage to make it third-and-8. It was a crucial moment, as the Pats likely would've opted for a field goal if they couldn't convert the first down. 
But Jones went to his tight end Hunter Henry for 14 yards to extend the drive with 47 seconds left to play. 
A few more plays later found the Patriots on Buffalo's six-yard line, and a catch by Pop Douglas landed New England on the one-yard line with 18 seconds to play. 
NFL LEGEND TOM BRADY NOW REALIZES WHY FANS 'GET P—ED OFF' WATCHING GAMES
Jones wouldn't convert on another pass to Douglas, but he found another tight end – Mike Gesicki – on a perfectly thrown ball to retake the lead with 12 seconds left to play. 
Allen and the Bills had to perform a miracle on the ensuing drive and they couldn't do it. He almost hooked up with Diggs for a deep completion, but his diving attempt to catch it didn't come through. Allen would fumble on the next play to end the game, and Gillette Stadium went ballistic. 
New England was shocking everyone before this final thrilling quarter, as they kicked a field goal and picked off Allen to start the game. They used that interception to score the first touchdown of the game, a rushing score by Ezekiel Elliott to make it 10-0 early. 
The Bills couldn't figure things out when they got into the red zone in the first half, kicking a field goal on one try and Tyler Bass missing his second attempt after the Patriots made it 13-3 on the previous drive.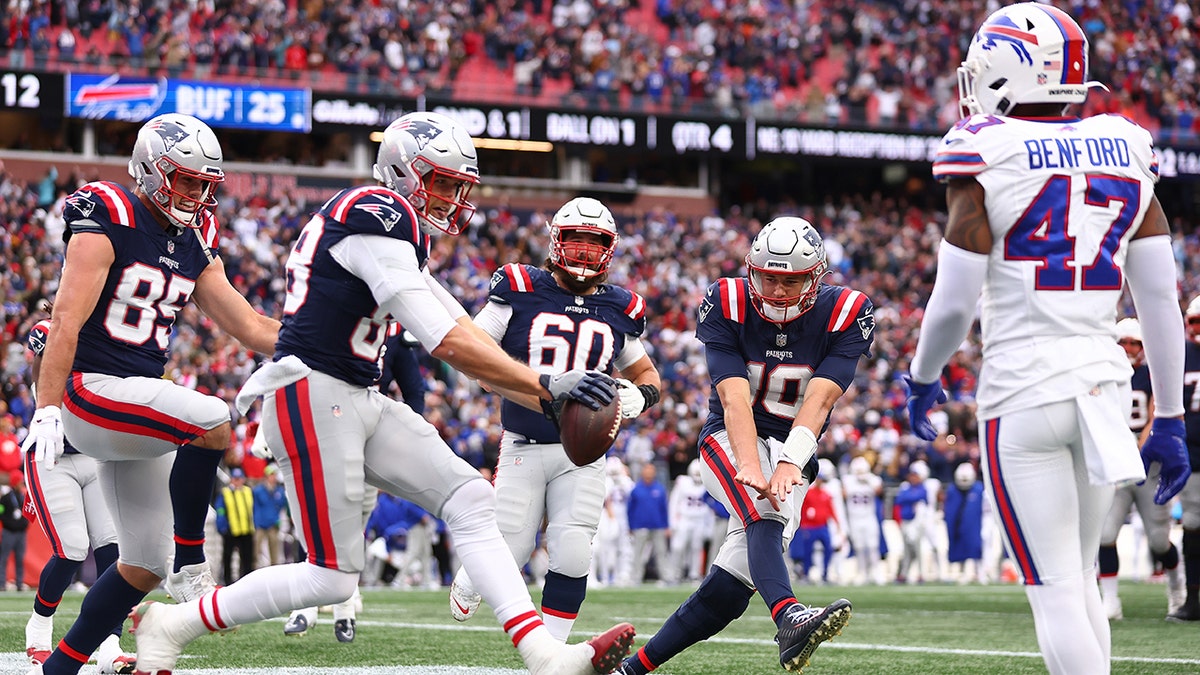 Buffalo would turn things around in the second half, though. An opening quarter touchdown to James Cook made it 13-10. But the Patriots would respond with a field goal, and after forcing a turnover on downs, Kendrick Bourne hauled in a touchdown to make it 22-10. 
Allen, realizing the Bills had enough time to score twice in the fourth quarter, started to work a no-huddle offense and it worked. It took just five plays for him to find Stefon Diggs for a 25-yard score in less than two minutes on the game clock. 
The Patriots' momentum would fall even more when Bourne fumbled after catching a pass on the second play of the ensuing drive, and the Bills would get Allen to push his way into the end zone and convert a two-point conversion to make it a three-point ball game. 
But it wasn't almost destiny. Jones, who had been struggling with a four-game losing streak entering this one, was able to orchestrate the game-winning drive to give head coach Bill Belichick his 300th career win. 
Jones finished with 272 yards on 25 of 30 for two touchdowns with Bourne his top target with 63 yards on six catches. 
On the other sideline, Allen went 27 of 41 for 265 yards, two touchdowns and one interception. Dalton Kincaid, the rookie tight end, was the top receiver with 75 yards on eight catches, while Diggs had 58 yards on six catches (12 targets).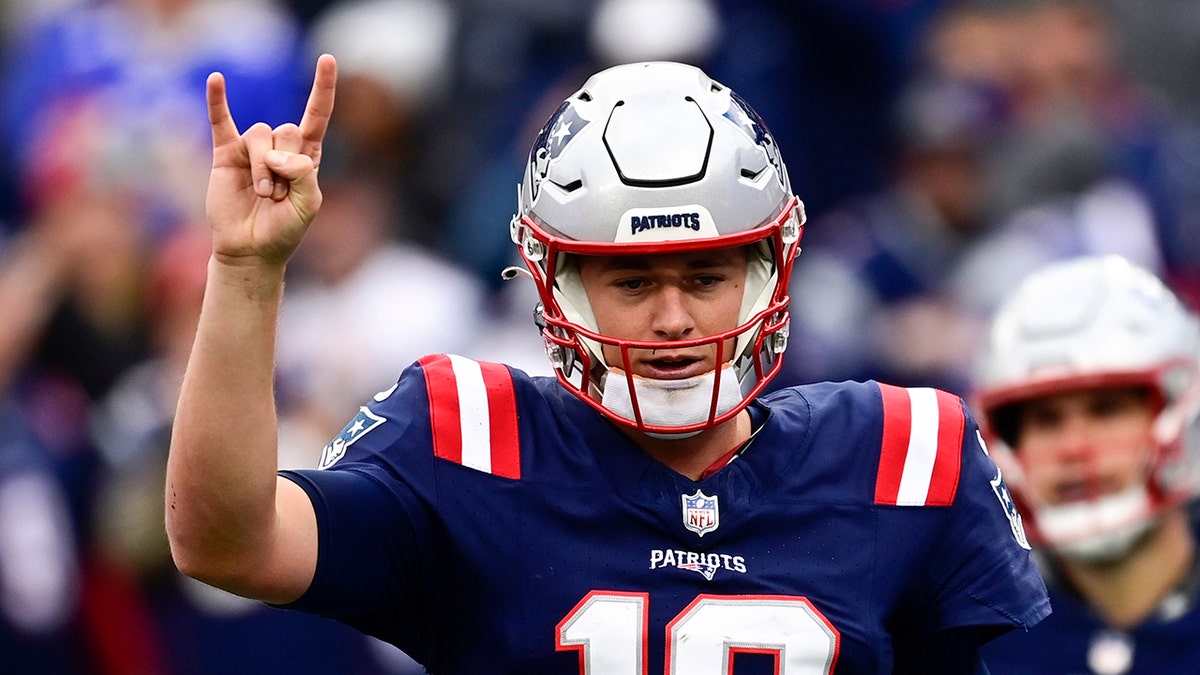 CLICK HERE TO GET THE FOX NEWS APP
The Bills are now 4-3, while the Patriots move to 2-5.